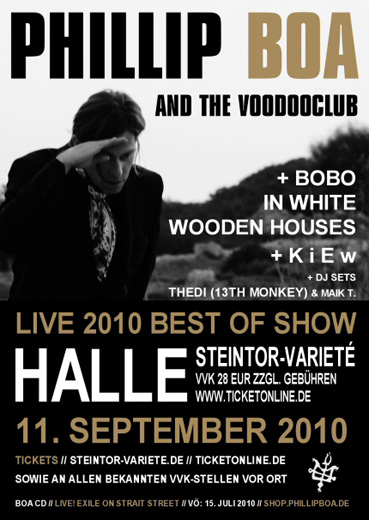 Phillip Boa kommt mit dem Voodooclub im Herbst für sieben ausgewählte Best-Of-Shows auf Tour und hat als Special Guest für die Show im Steintor Varieté Halle persönlich KiEw ausgewählt und eingeladen!
KiEw eröffnen den Abend gefolgt vom zweiten Special Guest Bobo In White Wooden Houses, bevor dann Phillip Boa And The Voodooclub die Bühne entern. Im Anschluß an die Konzerte werden dann Maik T. und Thedi mit DJ Sets den Abend abrunden! Mehr Infos hier!
PHILLIP BOA AND THE VOODOOCLUB
BOBO IN WHITE WOODEN HOUSES
KIEW
+ Aftershow Party mit Maik T. und Thedi
Samstag, 11.09.2010
Steintor Varieté
Am Steintor 10
06112 Halle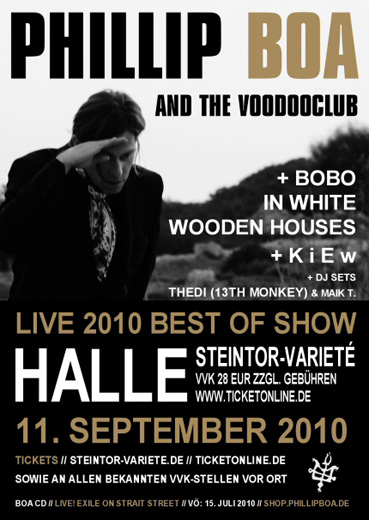 In Autumn Phillip Boa is coming for seven special best-of-shows on tour! For the show at Steintor Varieté Halle he personally chose KiEw to support him as special guest!
The night will be opened by KiEw, followed by the second special guest Bobo In White Wooden Houses before finally Phillip Boa And The Voodooclub will enter the stage. After the concerts Maik T. and Thedi will play dj sets and spin lots of crazy tunes! More info here.
PHILLIP BOA AND THE VOODOOCLUB
BOBO IN WHITE WOODEN HOUSES
KIEW
+ aftershow party with Maik T. and Thedi
Saturday, 11.09.2010
Steintor Varieté
Am Steintor 10
06112 Halle (GER)