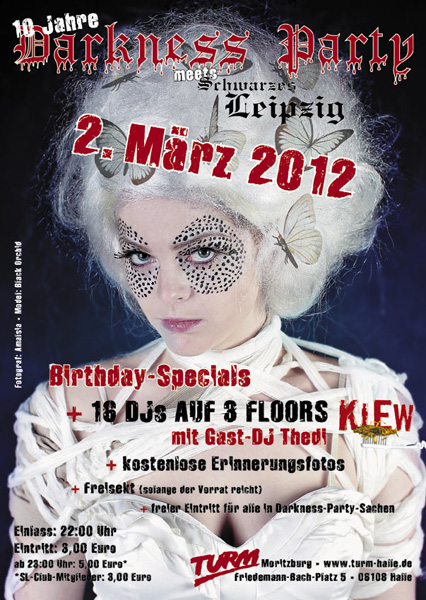 Am Freitag, den 2. März 2012 legt Thedi beim 10jährigen Jubiläum der Darkness Party im Turm in Halle an der Saale auf, unter dem Motto "10 Jahre Darkness Party meets Schwarzes Leipzig" wird ab 22 Uhr mit insgesamt 16 DJs auf 3 Floors ordentlich gefeiert! Be there!
10 JAHRE DARKNESS PARTY meets SCHWARZES LEIPZIG
Freitag, 02.03.2012
Einlass: 22h
Eintritt: 3 Euro (ab 23h: 5 Euro)
Turm
Friedemann-Bach-Platz 5
06108 Halle an der Saale
Germany
DJs:
1. Floor (Industrial, Electro, EBM, Synthie-Pop…):
Thedi (KiEw / GNM / All About)
Jason
Puppe
[Reaktor-4]
Rafi
2. Floor (Gothic, Goth-Rock, Batcave, New Wave, Minimal, Mittelalter, 80er…):
Bigo
Enno
Larry
Falk
Ussel
3. Floor (Metalcore, Black-Metal, Death-Metal, …):
der:bunkerwolf
DasDunkel
Blast
Puppe
Dawn
Haradrim
Derocin
Mehr Infos auf der Darkness Party-FB-Seite: Klick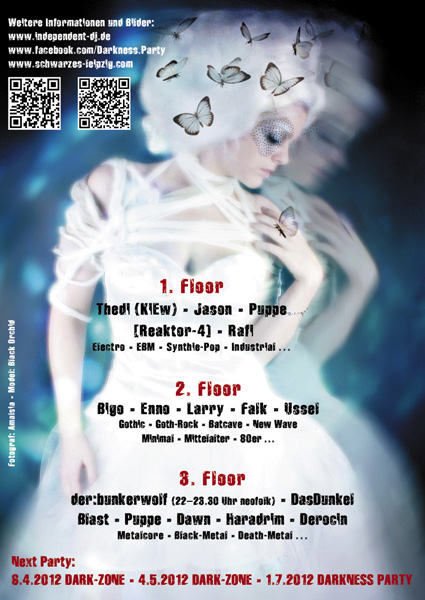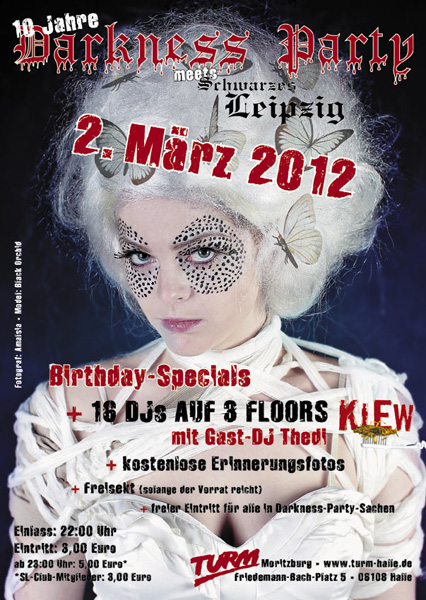 On Friday, March 2nd, 2012 Thedi is djing at the 10 years anniversary of the Darkness Party at the Turm in Halle (Saale)! Under the slogan "10 Jahre Darkness Party meets Schwarzes Leipzig" the party will feature not less than 16 djs on 3 floors, the doors open at 10 pm, the fee is 3 euros! Be there!
10 Jahre DARKNESS PARTY meets SCHWARZES LEIPZIG
Friday, March 2nd, 2012
Doors Open: 10 pm
Fee: 3 euros (from 11 pm: 5 euros)
Turm
Friedemann-Bach-Platz 5
06108 Halle an der Saale
Germany
DJs:
1. Floor (Industrial, Electro, EBM, Synthie-Pop…):
Thedi (KiEw / GNM / All About)
Jason
Puppe
[Reaktor-4]
Rafi
2. Floor (Gothic, Goth-Rock, Batcave, New Wave, Minimal, Mittelalter, 80er…):
Bigo
Enno
Larry
Falk
Ussel
3. Floor (Metalcore, Black-Metal, Death-Metal, …):
der:bunkerwolf
DasDunkel
Blast
Puppe
Dawn
Haradrim
Derocin
More infos at the Darkness Party-FB-page: Click